Today's round up of the Liverpool gossip mill including Michael Owen, Garcia exit, 3rd for Europe and City take on red reject.
Owen move dead
Rumours have been persisting for some time on a potential return to Liverpool of Michael Owen. A release clause of only £9 million – a good Premiership scoring record, and the Liverpool board are apparently keen on the idea. However, Mr Benitez is not a fan.  Owen departed shortly after Benitez arrived, failing to believe in the aspirations the new manager had set for Liverpool. It seems Rafa is a man not to be crossed, and despite the relatively low transfer fee it looks likely that Liverpool will leave Owen to participate in Sam Allardyce's unique brand of football.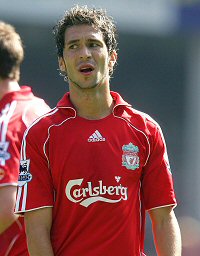 Love you long time, Luis
Little Luis Garcia could be the makeweight in the Fernando Torres move if rumours are to be believed.  The release clause is now believed to be £27 million, and a swop for Garcia and roughly £20 million is the kind of deal under discussion on LFC forums.  Too much? I would be interested in your thoughts.
Certainly Luis has been a good little buy for the reds, playing an important role in our European campaigns. However, in the Premiership I personally feel he lacks the guile to be a regular starter, and I have always preferred him in the home games only. 
Another conflicting report suggested that 'no way' would Atletico sell Torres.
In football language, that means 'let's get this deal done – just give us an extra couple of quid.'
Reds ranked third – now we just need to qualify
As discussed in the forum a number of weeks ago, the news has today filtered out to the rest of the planet that Liverpool are ranked third for the Champions League. AC Milan are seeded first, with Barcelona second. Both Chelsea and United are also in the group of top seeds, which has an impact when the draw for the group stages are carried out. The reds still have the two legged qualifying tie to get through which will take place early in the season.
Danny does Bolton
Liverpool squad member Danny Guthrie has moved to Bolton on loan for a season. The 20 year old reds midfielder is part of the first team squad but has seen his opportunities limited to League Cup appearances and 3 Premiership substitute appearances.  Hopefully the midfielder will gain vital Premiership experience and maybe break through as one of our next home grown talents. With Liverpool's strength in the middle of the park, you have to wonder if he will ever return. We wish Danny the best of luck next season.
Football 365 – problems with numbers
The big story from Football 365 today was a real thriller…
'Reds set to spend £45 million in Spain'. How exciting… But hang on – this 'story' was that Liverpool are interested in Fernando Torres (£24-£27 million they say) and Diego Forlan (£15 million they say). If anybody has a spare calculator to send them I'm sure they would be thrilled.
Manchester City in Thai tie-up… 😉
Thaksin Shinawatra (87 points in Scrabble) is set to purchase Manchester City. The former Thai PM came close to securing a 30% stake in Liverpool in May 2004 for £66 million with the promise of injecting £50 million in to players until corruption charges against him scuppered the deal. By paying an extra £15 million he can buy the entire club down the M62. Sven is lined up to take the reins. It is unclear if Thaksin intends to bring a bit of Bangkok in to the Manchester City dressing room, but Sven won't mind.