All eyes still on the Torres move, Rafa talks tough on Cisse and insists that Liverpool are busy in the transfer market.
United enter race for Torres?
According to some sections of the media, Manchester United want to wreck Liverpool's hopes of landing Fernando Torres. Whether this is rumours from Atletico's side to ensure Liverpool pay top whack, genuine United interest, media hype or a ruse from United remains to be seen.
Atletico appear to be still haggling over the details, after the reds added Luis Garcia in to the equation.
The majority of the media has swung back round to back Liverpool as the favourites, as this is believed to be the player's preference.
If the deal goes through it will certainly smash Liverpool's previous record transfer fee of £14 million on Djibril Cisse, another player mentioned as a potential bargaining chip in the move.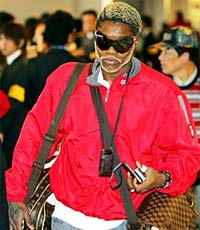 Rafa talks tough to Marseille
Staying with Cisse, and it had appeared that Liverpool were going to allow Marseille the right to take Djib on another season's loan with an option to purchase at the end.  How much knowledge Benitez had about this is questionable as he is furious that Marseille appear to be getting another season out of him on the cheap.  With Man City's new regime believed to be very interested in the player, Rafa feels he can settle Djibril's career once and for all this summer.
"The situation with Cisse is clear," Benitez told the club's official website. "If another club wants him, they must buy the player.

"We do not want another loan."
The club will listen to offers at around £8 million.
Newcastle over-charge on Owen
As mentioned before, Michael Owen is still highly thought of by the Liverpool board, but not by the reds boss.  Speculation about a swap deal for Owen, with Bellamy AND Riise going the other way have been scuppered by Rafa. According to the Sunday Express, Benitez stepped in to put an immediate halt on the deal. Michael Owen has a £9 million release clause. It's our opinion that both Bellamy and Riise could probably claim that kind of transfer fee each.
Carson to Black Cats
Roy Keane's newly promoted Sunderland have entered the race to sign Scott Carson. Carson has been overshadowed at Liverpool due to the arrival of Pepe Reina, and is deserving of first team Premiership football.  Liverpool look unlikely to keep hold of the player, and with Reina signing a new five year contract, the Mackem's have joined a long list of Premiership clubs chasing Carson's signature.
Let's hope the reds get a decent price for a player who could be England's national keeper for a long time to come.
Benitez insists no problems, yet
Rafa has also spoken out to halt the criticism's of the Anfield board. There have been suggestions every day that Benitez' is not being backed in the transfer market and is considering leaving. The gaffer actually said,
"We have a number of targets, and I am receiving interesting phone calls all the time. We are monitoring situations all the time and there is no urgency yet."

"If we bring in players from Spain, they only finished playing a week ago so they will need a longer break, but I would like somebody in before we start pre-season training."
Hopefully, next week should see more transfers both in and out being concluded as the pre-season approaches on the horizon.