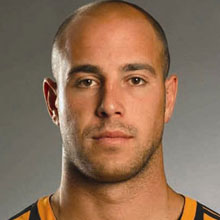 The extended contract handed today to Jose Reina was yet another significant step forward in the next stage of Liverpool's development.
Following on from Gerrard and Carragher's 4 year contract extensions last week, Jose Reina signed a new 5 year contract with Liverpool keeping the player at Anfield until 2012.  These three 'signings' have been swift and well executed, unlike the previous regime when financial planning was much less optomistic and almost cost the club severely – as Steven Gerrard' s Liverpool future was on the brink after Istanbul.
Reina was thrilled:
"I am very happy with this contract. It was always my wish to sign a new deal because this is a good club which is looking forward to a very ambitious and attractive project.
 
"The details of the contract were very straightforward. Rick Parry and the American owners made everything easy and in the end it was a good solution for the club and a good solution for me.
 
"I spoke with Rafa and his thoughts for the future really excited me. He has ambitions for the team which I want to be part of and I'm sure the other players feel the same. The idea now for all of us is to keep winning matches and to challenge for titles. That's what we'll be looking for from the start of next season.
 
"Our fans deserve the league title and that's what we'll be looking for. Seventeen years without winning it is far too long for this club and that's why our biggest target next year has to be the Premiership."
With finalised stadium plans going in front of the council in a couple of weeks, promising an initial 66,000 seater on completion and a 19,000 seater Kop, all we need now is some of the juicy transfer speculation to come to fruition and it really could be another Summer of Love.