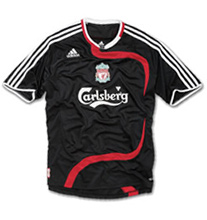 Liverpool FC are to launch their official European Away Shirt and Kit for 2007/08 on September 6th 2007. It will be the last new kit release of this summer.
The shirt features a fairly unique design – with a red curved line on a black shirt. The new black shorts also feature a distinctive red line.
Personally, I was disappointed with the away kit this summer and this new European away kit (which will also be used as Liverpool's third strip in other competitions) has a much better style about it. The Liverpool badge is placed in the centre of the shirt.
The shirt is available in short sleeve and long-sleeved designs and a baby kit and mini kit are also available to pre-order now. (Click here to see the rest of the new kit)
So what do you think about the new shirt – Style Icon or Peter Beardsley?