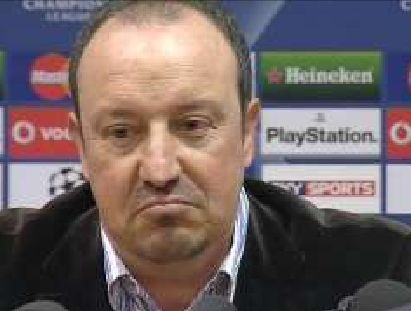 European Cup winning manager Rafa Benitez has confirmed his determination and confidence that the reds will defeat Porto in tomorrow's crunch fixture.Liverpool need victory in tomorrow's game to stand a chance of qualification and will be looking to avenge the draw away in Portugal earlier in this tournament.
Benitez (twice European Cup finalist in three years) began the press conference by stating his aim to talk solely about the upcoming clash. Liverpool supporters will be out in force for the game to march in support of Rafa (2006 FA Cup winning boss) – get down to Anfield as early as you can is our advice – and take your homemade Rafa (who managed the reds to their record Premiership points score) banners.
This is a transcript of the press conference:
Benitez: Before you start asking, for all of the media here, as Liverpool Football Club manager I know what is the most important thing for my club and our supporters. So, I will talk about Porto and not anything else.
Journalist: Are you worried that this game against Porto will be your last?
Benitez: I'm sure that we will win and I'm sure that we will play well. I am always thinking about to win the next game and after that I will think about to win against Bolton.
How much of a distraction has it been, what's been happening behind the scenes?
No distractions, we are thinking about Porto.
There's been talk of a meeting between you and Rick Parry, have there been steps to clear things up behind the scenes?
You can ask, but you know I will talk about Porto.
Can you confirm the meeting took place?
We will be thinking about Porto and we don't have any problems.
We were talking because we talk a lot, but really we were talking about different things. The most important thing for my club and the supporters is the game.
The supporters are united behind you, aren't they?
The supporters are magnificent always. When we played against
Chelsea in the semi-final, you could hear them, and against Besiktas the other day. Without any doubt, the supporters will be behind the team.
Also behind you as well Rafa, what do you make of the stand they
are making?
If they are behind the team, I will be pleased.
This is a must-win game, isn't it?
Yes, but it's important to know that you must not lose. It's maybe
something that isn't considered, but if you draw, you beat Marseille and Besiktas beat Marseille, maybe you can still qualify. So it's really important to win, but it's also important not to make any mistakes.
If you win tomorrow, beat Marseille and remain unbeaten in the
Premier League, you'll be in good shape, won't you?
Yes, I think that we're in a very good position. We are unbeaten
and in the last game we played really well. You can see a lot of players now playing good games, passing the ball and playing good football. I think it's much better now and we will try to keep the momentum.
Do you see this being a different game to the one in Porto?
Yes, it must be. We started that game badly, but the big difference
here is that we'll have our people behind us. We are playing at Anfield and that means a lot for us and I say again I think the team is playing better, so I think we are in a better position than before.
You've won a lot of trophies in your career by being single-minded and doing what you think is best for the club you've represented. Are you ever willing to compromise on that?
The best will be to win tomorrow, so I will try to compromise and
win tomorrow.
If the owners of Liverpool Football Club were to suggest another
way, are you someone who will be prepared to compromise or will you stick to what you think is best?
I am just thinking about to win tomorrow.
Ahead of kick off the supporters have organised a march
in support of you, what do you make of that?
I will try to repay them by winning the game.
Is it the character of your side that reacts to difficult times?
It is clear, and I've said before, that we've made a mistake and
put ourselves in a difficult position, but it's much better than a couple of weeks ago because if we can do the right things and win, we can think about the next one.
The dressing room seems united behind you, is that how you see
it?
The players are really working hard for this club. The commitment
is fantastic and it will be the same tomorrow.
How far ahead are you able to plan at the moment?
I have my plan ready for winning against Porto.