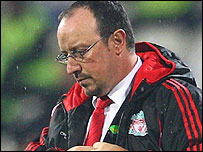 After a difficult week for Rafa, he has responded to the positive comments from co-chairman Tom Hicks and also backed Xabi Alonso to help the reds back to winning ways.
Tom Hicks came out in support of the manager who has taken some flak from the media in the past week and Benitez responded to those comments:
"When I was under pressure at Valencia, we won the title," he said. "Two years later when I was under pressure we won the title and the UEFA Cup.
"Maybe it can be the same here. I think Tom is trying to be supportive. When we talk or email, everyone wants the same thing and that is to win trophies.
 "It's a similar situation to all the teams at the top. When teams spend, people are expecting something. We want to win every trophy.
"Managers need time to build a team to win the title. If every manager who spent money and did not win the title was sacked, there'd be lots of new managers every year."
Xabi Alonso was an unused sub on Wednesday and is hoping to challenge for a starting place against Arsenal tomorrow – Benitez stressed the importance of the retuning trio:
"It's clear that with Xabi, Daniel Agger or Fabio Aurelio, players with quality in possession, you can improve your attack. 
 
"The question is to find the balance. Xabi is a top class player. If he plays well then the team plays well.
 
"In midfield we have Gerrard now playing better and if you have Steve, Mascherano or Xabi playing well then you know the team will play better.
 
"Xabi can play with pace. He has pace with the ball. It's important that we have someone who can switch the play before the opposing defenders are organised, he can pass the ball 40 yards so the defenders don't have time. Sometimes you need a player like Xabi."