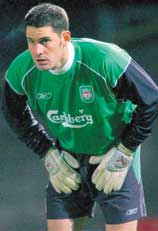 Scott Carson is set to break the England Under 21 international appearance record with his 29th cap as England take on Serbia in tonight's clash.
Jamie Carragher won 28 caps during his Under-21 career, alongside Gareth Barry.
Victory tonight would ensure qualification from the group stages.
"I've always looked forward to this and my main objective of the season was to play here and hopefully bring back the trophy."
 
"To get one cap was brilliant, I'm delighted to get this far. But I'm not really concentrating on the caps and things like that, I'm just concentrating on getting us as far as possible in the competition and hopefully go on to win it."
Carson is due to report to pre-season training with Liverpool later this summer, but the player realises his future may lie away from Anfield.
"I think you can only get in the England squad when you are playing games regularly but we'll have to wait and see what happens next season and take it from there."
"Nothing is sorted as yet, I'm just concentrating on the tournament at the moment."