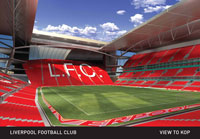 Liverpool's new stadium is heading to the half billion pound mark before the first brick has even been laid.
The initial stadium was due to cost in the region of £180 million, with a further £70 million earmarked for re-development plans of the Anfield area and related stadium amenities.
The reds are waiting on a November 5th council meeting to give the red light on the finalised stadium plans.
Tom Hicks admitted that the stadium costs had risen to 'at least £400 million'.
"Our fans are wonderful and over time we'll be able to give them the amenities, comfort and ease of getting tickets they have never had before."
The project is expected to be completed in 3 season's time. The sooner the bricks start being laid the better before we face the kind of financial problems that engulfed the new Wembley.