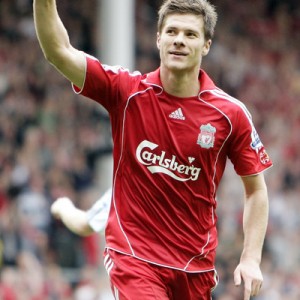 Xabi Alonso, a contracted Liverpool player until 2012, today spoke out against the media speculation linking him with a move to Real Madrid.
The Spaniard who is preparing for Euro 2008 has been linked all season with a return to his native Spain but today denied reports that he would be playing football at the Bernabeu next season.  With Gareth Barry linked to the reds this has only further fuelled the fires.
"I think I will be here next season even if Barry comes," said Alonso.
"He would bring good competition and he would be more than welcome. He can play different positions and if he plays in midfield then I could play with him. I have no problem with that.
"At the moment I feel I could stay here for many years. I have been here for four seasons already; why not seven or eight?
"As long as I am performing well and the club wants me to stay then I will."
Many rumours in the press had stressed a fall-out with Rafa and Xabi, but the player dismissed that out of hand.
"There is no problem between me and the manager and I would like to clarify that."
"I have read that we have had an argument but our relationship is the same as it has been since I joined Liverpool.
"I spoke to the manager only the other day. He has never said that he wants me to leave."