Rafa Benitez insisted that Liverpool remain well placed for next week's return fixture against Arsenal after tonight's 1-1 draw at the Emirates.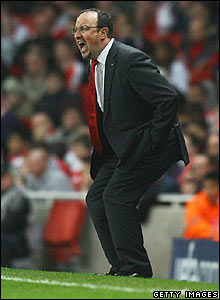 "In the second-half we knew that we were running a lot in the first-half, they had plenty of possession so it's difficult to keep the team working as hard as in the first-half so we needed to change players."
"I think it (the away goal) is crucial in Europe.
"You know that Arsenal is a team that also can score away but at least we will have now in our hands the options.
Benitez would not be drawn as to whether he would keep the same tactics for next weeks game:
"We will see – it depends on the physical condition of the players and if we can keep the ball more than today."
"We are in a good position, playing at Anfield with our supporters who are a massive difference.
"But against a good team with the quality you could see today we need to play counter-attack and working very hard in defence."