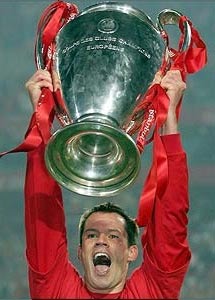 Jamie Carragher has insisted upon his Liverpool teammates that being top of the league is not a special achievement for Liverpool – and that it should be entirely expected of Liverpool FC.
The reds vice-captain was selected as the reds Man of the Match against Chelsea, but is keeping his feet firmly (as ever) on the ground.
Carragher stated that the reds had underachieved for 18 years and that the current league position is the one that Liverpool should naturally occupy.
Speaking to the Daily Mail he said:
"It's the first time I have ever won at Chelsea – and I have been going there for more than 12 years."

"People will be talking about us a bit more because we're top but we've got to live with that. Teams are going to want to knock us off there. We have to cope with that.

"It (defeating Chelsea) was a great result and we're delighted with the position we're in.

"It's [Stamford Bridge] always a hard place to go to, but I'm delighted that we're the team that has broken the record.

"Our reaction was not ecstatic, it was just a job done. We're delighted with the position we are in, but we should not get too carried away with it. We're only doing what we should be doing. We're a massive, top club with a lot of great players.

"We are not getting carried away. It was a good result; it's something no other side has achieved in over four years. But we have to capitalise on it now – not just live on the fact that we got a great result at Chelsea.

"It was disappointing to draw with Stoke and there was a lot of talk at the time that we were getting complacent – but that kind of thing happens.

"If we played that game again, nine times out of 10 we would win it."

(On the reds next two opponents, Portsmouth and Spurs)

"There's a lot of stuff going on at both of those clubs at the moment and you never know how they are going to react. So the next two games are going to be very tough but we have got to go for maximum points."