The fantastic LFC book Here we go Gathering Cups in May is released in it's paperback form on the 1st May, and to celebrate this we have a copy of the book to give away.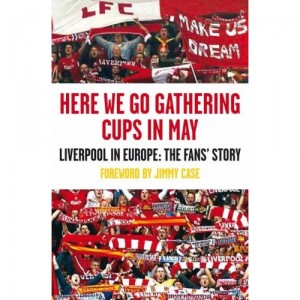 Here we go Gathering Cups in May is the Liverpool fans story of all 7 European Cup finals that the club has been involved in. Written by seven die-hard Liverpudlians, each chapter chronicling one of evenings at the top table of European football. From the glory of Rome '77, through the violence suffered by Reds fans in Rome in '84 and the tragedy of Heysel '85 (well written by Kevin Sampson), right up to the highs and lows of Istanbul and Athens.
The book is a fascinating read for every Liverpool fan – be you a seasoned oldie (who may get a name-check!) or a newbie – this story tells a terrific tale of some of the memorable nights that we will never forget.
The book is available from all good online (and offline) retailers (Amazon are selling it for £7.19)
This competition is now closed.

We asked
Q. Who scored the goal that won the European Cup for Liverpool against Real Madrid?
The answer was of course Alan Kennedy. (Not Kenny Dalglish, Jamie Carragher or even Phil Kennedy?)
The lucky winner was Alan Martin who hails from West Derby in Liverpool. Congratulations.