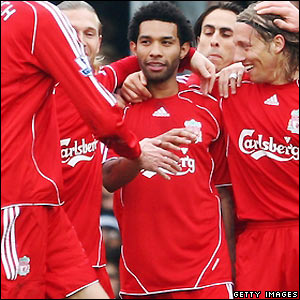 After his first appearance of the season against Crewe, Jermaine Pennant is hoping that he can force his way back in to the Liverpool team.
Rafa Benitez had wanted to off-load the player in the summer transfer window, but Pennant rejected a move to Blackburn as negotiations fell apart over the players wage demands.
However in the reds midweek win, Pennant impressed enough in parts to suggest that he may have given Benitez one or two things to consider.
Pennant said:
'From my own point of view it was just nice to get 90 minutes under my belt,.
'It doesn't matter whether it's the Carling Cup or another competition to me, it's good to get a run out and I enjoyed every minute of it.
'When you're at a club like Liverpool you are going to have to fight for your place so I'll keep plugging away.'