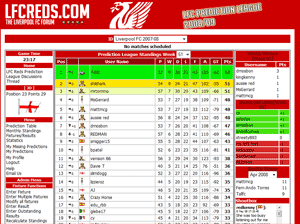 As the competitive season is now just days away, the new 2008/09 LFC Prediction League is up and running over on our forum.
You can sign up right now for free and enter your score predictions for the first few games of our season, starting against Standard Liege on Tuesday.
There will be a monthly LFC prize for the 'Manager of the Month' and as ever a fantastic end of season prize for the Champion.
This season, we have improved the scoring system, meaning for a correct score will be rewarded with 5 points and correct results or correct home and away score also gaining some points.
You can find more information on the scoring system in this thread or sign up right now for the LFC Prediction League here.
Good luck!