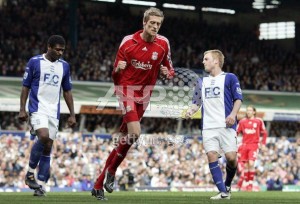 Portsmouth have increased their cash offer to £7 million for Peter Crouch in a deal which also adds a potential £2 million dependent on club and player performances.
Peter Crouch has another year left on his Liverpool contract having been offered an extension which he has not yet signed. The new figure, which could give a potential transfer fee of £9 million, is believed to have been rejected by Liverpool Football Club.
Liverpool are believed to prefer the entire amount up front and would be loathed to see the England striker leave Anfield for less than £12 million.
Harry Redknapp meanwhile has been telling his local papers down on the South Coast:
"I'd love to bring Crouchie back here.
"We are trying to do deals to bring in players and (chief executive) Peter Storrie is working on trying to get things done.
"But the fee seems a bit too high, and at the end of the day it comes down to the price.
"It seems like things are getting a bit too expensive.
"Crouchie is a player who is on our list, but if nothing can be done then we will just move on to the next player."