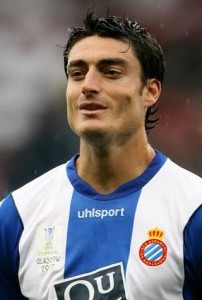 Liverpool's new Spaniard, Albert Riera, can't wait to make his Liverpool debut, widely tipped to be the Anfield clash against Manchester United on September 13th.
Speaking to the official website after his move (believed to be for around £8M), Riera said:
"I cannot wait to see Anfield and start there. Not only is it a club with a lot of history, but they have great players and a coach who everybody talks very highly of."
"When I arrived at Espanyol I was a kid and now I've progressed as a player at the same time the team has progressed.
"Thanks to Espanyol I've become a full international and now an opportunity has opened itself for me to take a very big step. Liverpool are a club where you are always obliged to play to win.
"I always said that if I left it would be for the best of both parties and to go to a great team. That is the case and I think everybody understands that my departure has been so I can continue growing."
Player Profile: Albert Riera