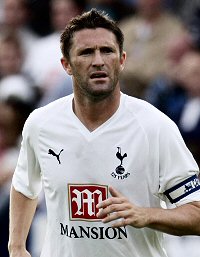 Tottenham Hotspur's Robbie Keane looks set to become Liverpool's biggest signing of the summer so far after Spurs boss Juande Ramos admitted that financial pressures would mean he would be likely to exit White Hart Lane.
Liverpool have not commented on the Spurs striker at any point during this summer but he is believed to be one of Benitez' major targets.
Ramos disclosed the pressure on him to balance the books down in North London.
"We will see what happens there, but we are talking about two very important players. (about Keane and Berbatov).
"For the moment they are with us, but whatever happens the idea is to have a great squad, with the potential to allow us to aim to improve on what we managed last season.
"We have to be realistic and see what we are starting with and who we are competing against.
"There are some big clubs who have spent a lot of money over many years and have a certain advantage. In fact they claim they want to sign some of our players.
"At Tottenham, we have had a clear philosophy regarding buying and selling for years. The idea is signing young players, promising and talented ones, and if important offers for older players are made, studying it to see what is the best for the club."
Keane, who is 28, arrived at White Hart Lane in 2002 when Glenn Hoddle paid £7 million for him.
His goalscoring record is 169 goals in 352 matches, and he has 33 goals in 80 Republic of Ireland internationals.
Liverpool will be hoping to secure the striker for around £16 million.