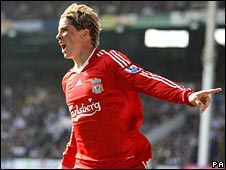 With neither Dirk Kuyt or Robbie Keane setting the goalscoring charts alight for Liverpool, derby day hero Fernando Torres was quick to heap praise on his fellow attackers.
"It is very simple – without Robbie and Dirk, the goals I scored would not have been created.
"They were involved in both goals and it is because they give everything for the team that I was able to score them.
"If you look at my first goal, the ball that Robbie crossed in was perfect and so was the run by Dirk which took the Everton defenders away and gave me a clear chance.
"It is always nice to score, but without my team mates it would not have been possible."
Nando revealed that he and Keane have been working hard at Melwood to improve their understanding.
"It is not always easy to form a new partnership but we are working hard in training all the time and it was good to see that work pay off on Saturday. Robbie was very important for our victory and I am sure that very soon it will be him who is getting the goals because he is a great player.
"Once he gets his first goal even more will follow because sometimes you just need to relieve the pressure with one goal.
"I have not been scoring for six games, which is too long for a striker, but when I got one on Saturday the other one followed almost straight away and that is often the way it happens."
Robbie Keane has been waiting for his goal of just shy of 11 hours of football for Liverpool. Let's hope this week's PSV clash is when he opens his account.