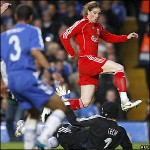 Liverpool's number nine has moved to end the bubbling speculation about a move away from the Anfield giants.
In recent weeks, the press have harped on about interest from other Premiership and European clubs in Fernando Torres.
Benitez has laughed it off, even Hicks has rubbished the transfer speculation and Liverpool fans have been rolling around in the aisles at the thought that we would sell El Nino to another club.
Today, Torres who is currently training ahead of the Euro 2008 championships said:
"It is an honour to be linked to clubs like Barcelona, Chelsea, or Arsenal – but I am not thinking about a change and I want to continue playing for Liverpool for many years to come."
"It's been quite easy for me. I have been able to enjoy every minute at a club where things have gone well.
"I have been part of a team where every player shares the same goals and where a player can rely on the support of his team-mates.
"I have also worked with a manager who believed in me. It was the combination of all these factors."