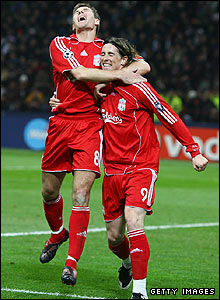 Speaking to the Liverpool Echo, the reds hitman Fernando Torres has urged the clubs owners to put aside their differences and ensure that Liverpool compete off the field with the biggest European sides.
Fernando Torres is Liverpool's record signing at around £21 million, but last summer saw a relatively small transfer investment overall with a large amount of money recouped from some high value transfers out of Anfield.
Torres is in no doubt that improved spending can help narrow the gap between the reds and the other top three clubs.
"It's clear that they (United and Chelsea) have a lot of £20million or £25m players, and that difference is what separates us in the table.
"I hope that the club does what needs to be done and we can quickly catch them up.
"In order to compete with Manchester United and Chelsea, if we can't keep up with them economically, then we have to get it absolutely right in the transfer market."
Torres shrugged off suggestions that the feud behind the scenes affected him this season.
"It may have had more of an effect upon my team-mates.
"But the truth is, that between the language and the fact that I don't pay much attention to that stuff, or to any of the problems, it hasn't affected me.
"Liverpool is a big club that knows how to isolate you from those issues in order to stay competitive."