Update (Now available to order!)
Liverpool's new away kit and shirt for season 2009/10 will be black with gold adidas trim and red piping.
Liverpool's Carlsberg sponsor will also be in gold.
Rumours have been doing the rounds on the forums since the start of the year, but we were informed that a white shirt was also under discussion as the new away top.  This morning we have been told that the club and adidas have decided on the black kit for Liverpool's new 09/10 away based on sales of the reds previous black  shirt.
This season's European shirt sales have been disappointing but now that we have confirmation of next years away shirt we suspect the second design of a white shirt may feature as Liverpool's third shirt for 09/10 in order to revive sales.  The club's other option is to have a second home shirt for European games, as the main Liverpool home kit will not be replaced for another 18 months.
The following mock up from RAWK is the closest design to the new shirt and hopefully we will have a real photograph to post within the next couple of weeks.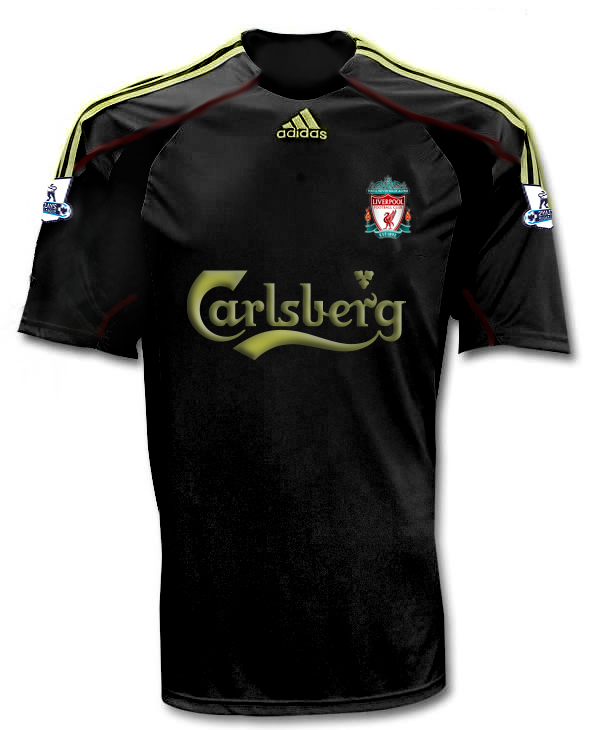 Update: 10th February 2009
An official 'snap' of the new shirt.
Updated: 13th May 2009
And here it is, after release – the official Liverpool FC Away Shirt for 2009/10.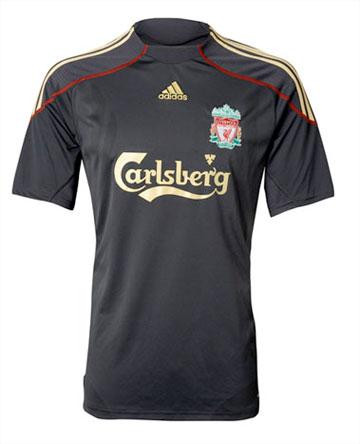 Further details on pre-ordering are here