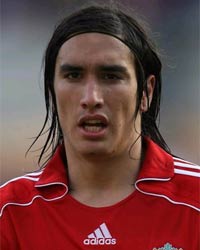 Liverpool's Sebastian Leto, on loan with Olympiacos for this season, could be making a hastier return to Anfield after a training ground bust up with his Greek side.
The player was sent on loan after he was refused a work permit to play in the Premier League last summer.
According to reports Leto was angry at being left out of the weekend's big clash against Greek rivals Panathinaiokos, and in the following training session was given a dressing down by the boss for refusing to train with the rest of the team.
In the ensuing training session the player is said to have started kicking balls wildly, and with one well aimed bit of shooting managed to get the club coach Ernesto Valverde.
The manager of the club issued the following statement:
"During yesterday's training there was an issue with Sebastian Leto, which for the umpteenth time was a disciplinary offence – forcing me to send him to the dressing room.

"I have informed the administration about this particular incident, and it is now up to them to decide the action needed. As I have said in the past, discipline is a fundamental concern for the calmness of the team."
Leto has completed more than 30 games for Olympiacos, a stipulation which Liverpool had ordered in his loan contract.