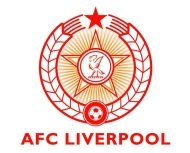 With Liverpool not playing them lot across the park until Sunday afternoon, why not take advantage of a golden opportunity to head down and see AFC Liverpool in action.
AFC Liverpool take on Leek CSOB at 3pm at Valerie Park, Prescot (adult entry is only £5, kids £3) and after last week's 5-0 win, fingers crossed there are a few red goals to witness.  Every AFC Liverpool game's a flag day, and last week AFC Liverpool unveiled their shirts in commemoration of the 96 Liverpool fans who died at Hillsborough.
The reds are currently top of the league and will be looking to avenge a 2-1 defeat against Leek in November.
Not only is there a decent atmosphere in 'The Kop', but the ale is dirt cheap as well.
Also at tomorrow's game..
The LFC TV Channel will be filming for a future programme on AFC Liverpool which will be on the official TV channel in the coming weeks.
AFC Liverpool may have changed their shirts, but there is now growing pressure for the Anfield club to recognise the 20th anniversary of Hillsborough in a similar fashion. There is a Facebook group set-up (already shot past 3,500 members – so get joining) and there is more information on the forum.
And what's more the BBC weather forecast for tomorrow says:
Whereas those going to Anfield on Sunday will have some
Take yourself, one of the kids, have a pint, get on the tele, have a sing-song, watch some proper footie from the reds and still have change from a tenner.
AFC Liverpool v Leek CSOB
Saturday 24th  January 2009, 3pm
Valerie Park,  Prescot
View Larger Map