The typical home of a Liverpool fan will no doubt have some LFC theme somewhere in the home.
From a mini European cup on the mantelpiece, a framed shirt or picture of a LFC hero, a burgeoning collection of LFC DVD's or even (how old are you!) VHS videos there are always signs that the home belongs to a Liverpool fan.
But when it's time to get intimate with your personal hygiene – it all goes out the window, as you wash yourself with soap or shower gel of a pathetic colour like white, green or even blue.
Until now.
Ian from the Early Bath soap company has come up with a fantastic bathroom idea.  Making football-themed soaps in the colours of tons of club and international football teams.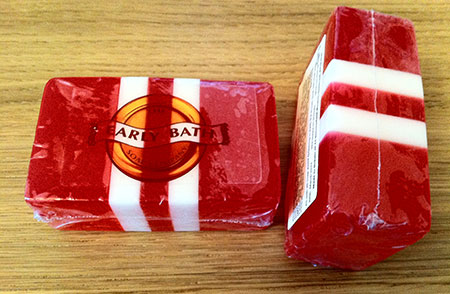 These are quality hand made soaps with all the essential oils and other soap stuff that we don't understand.
3 lucky Liverpool fans will win their own hand-crafted red and white soap.
Three chances to win:
1. Simply reply to this post with a comment along the lines of. 'I'm dirty. I need a scrub down with some red and white soap.' (remember to enter your correct email address in case you win – email address will not be published)
2. Sign up to our Anfield Online Facebook page and enter a comment under our wall post.
3. Follow us on Twitter and retweet "I need @anfieldonline to give me a good wash http://bit.ly/lfcsoap"
We will choose a winner from each of the above at random on Sunday night after the Man Utd game, when we will hopefully need a cold shower after a magnificent win, or a long soak in the bath to drown our sorrows.
And don't forget to take a look at the Early Bath website to see the rest of their range.
Rules: Competition entries are limited to UK residents or users with a UK postal address.  Winners will be notified by Monday 20th September 2010. The Editor's decision is final.