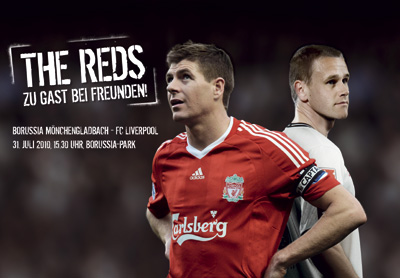 Liverpool have pencilled in a pre-season friendly to help celebrate Borussia Monchengladbach's 110th anniversary with a pre-season friendly.
The German side and the reds have an illustrious European rivalry.
Liverpool beat Borussia over two legs in the UEFA Cup final in 1973, before we won our first of five European Cup's in 1977 – beating them 3-1.
The following year the reds went on to win the European Cup again – this time knocking Borussia out in the semi-final.
Director of Sport, Max Eberl said:
"Liverpool are worthy and attractive opponents for our anniversary who are likely to ensure our stadium is really full."
With many Liverpool players involved in the World Cup this summer, we expect a much shorter pre-season period than normal years.
After the opening pre-season friendly against Liverpool a huge party will take place for the fans on the Borussia Park site. Thousands of Borussia supporters and friends are also expected to attend the family day on the Sunday (1100 to 1800).
Borussia Monchengladbach v Liverpool:  3.30pm on the 31st July 2010.