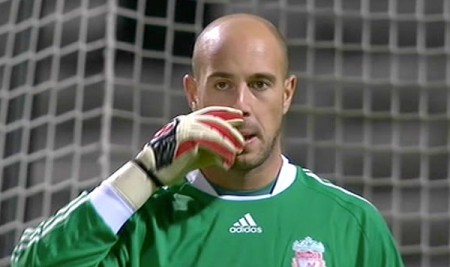 The favourable discussions on an extended contract for Pepe Reina were one of the highlights of last week for any Liverpool fan.
And the fact is not lost on Rafa Benitez, the man who brought arguably the World's best goalkeeper to Anfield for just £6M.
As the reds prepare to fly to France for tomorrow night's Europa League clash in Lille, Rafa has hailed the characteristics of the reds' stopper.
"Pepe is the man closest to the fans on the pitch.

"He listens to what they are saying and he knows what they are thinking and you can see the passion he has in the way he plays and the way he directs things.

"He is a fantastic character and he is proud to be here. He has a strong mentality and you can see that in the way he is in the dressing room and around the training ground. He is someone who always wants the best for this team.

"I think he has been playing really well and we are pleased with him. He is a top goalkeeper and has broken a lot of records since we signed him from Villarreal. We are delighted he is with us."
Pepe Reina is mentioned by many Liverpool fans as a potential future Liverpool FC captain and we certainly wouldn't disagree that he has the qualities for the job.