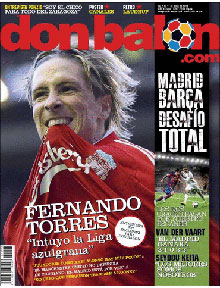 The latest issue of Spanish Football magazine Don Balon has gone on sale with an interview with the reds number nine Fernando Torres.
In the interview Torres is quizzed about the poor season Liverpool FC have suffered and what he thought the reasons behind it were.
"There have been various important factors, like the fact that we were so far off the top of the table so quickly. That killed us psychologically and has stopped us changing the situation. After that, injuries hit us pretty hard and we have felt that a lot. After a good season last year, the team needed certain reinforcements and keep the squad together, but circumstances dictated that we had to sell players and everything got messed up.

"The sale of Arbeloa, Hyypia and Alonso was an important loss. Alvaro was a player who did a vital job for us, always played to a high level and his flexibility was a huge bonus. Sami may not have played every week but he was a 10 out of 10 on and off the pitch, bringing calm to the ground and having everyone's admiration.

"And Xabi … players like Xabi are very rare. He was the team's engine and you know that when you change an engine, it takes time to work again."
Fernando Torres ultimately left his boyhood club, Atletico Madrid, due to a lack of ambition from the club, and suggests that there are some emerging similarities in the new American-owned Liverpool era.
"It's difficult to compare [Liverpool and Atletico] because the level of expectation and the sort of objectives we have are totally different, as much in a personal sense as a collective one. But, yes, you could say that there have been certain situations that look similar, above all in this last year."
But Nando also looked positively towards the future.
"Rafa signed a five-year contract last summer because he wants to improve the club. So I think that this new era of Rafa's is only just starting.

"Big clubs in Europe always go through difficult spells where it appears as though there is no light at the end of the tunnel. But because they are big clubs, they always come back and they do so with a vengeance. It is just a matter of time."
Translation provided via The Guardian