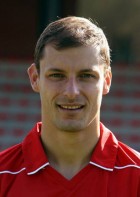 Milan Jovanovic, the 30 year old Serbian striker, has completed his move to Belgian club Anderlecht on a free transfer.
The player, who arrived last summer at Anfield (also on a free transfer), had signed a 3 year contract at Liverpool.  However he saw little first team action, and was played on the wing as opposed to up front where he had an impressive goal tally at former club Standard Liege.
Anderlecht will be hoping he reproduces the form that saw him help Liege to two consecutive Belgian titles in 2008 and 2009.
Milan made 18 appearances for Liverpool, scoring twice.