Dirk Kuyt has admitted that competition for places at Liverpool is forcing him to work much harder to get a place in the team.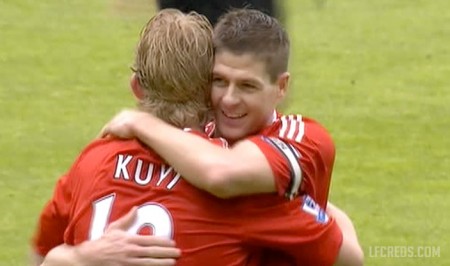 The 31 year old has been one of those players that have divided fans opinion over recent years.
At his best he can pop up with vital poached goals and work tirelessly, at his worst he can be guilty of some appalling control of the ball and wasteful possession.
Dalglish and Comolli awarded the player a new contract earlier this year, but as the Dutchman is finding out – that was no guarantee of a place in the starting XI.
"I'm disappointed to be out of the team.

"From childhood, I've always been disappointed when I'm not in the team because I'm desperate to be involved and make a good contribution. But it also makes me very determined too. I need to continue to prove myself, train as hard as possible and, when I do play, make sure my performance is of a high standard."
Dirk did discuss how under Hicks and Gillett the squad was weakened, and how the summer transfers have gone some way to reintroducing competition.
"Competition is tough now but it's brilliant for the club that there are so many players to choose from now, top-class international players. The players realise at the end of the day you need more than 11 good players to be successful.

"When I first arrived here we had a very good, big squad but for the last two seasons before this one, we haven't had the depth that we did in the first three seasons.

"Someone like Craig Bellamy is a strong addition to what is already a very strong squad, and that can only be good for the team.

"We definitely have better quality now and more players to choose from as well. I think with the signings we've made, we have a great squad now so we should be ambitious and have confidence in ourselves."
Dirk Kuyt has been in the 18 man squad for each of Liverpool's games this season, starting in 4 of our 8 games.