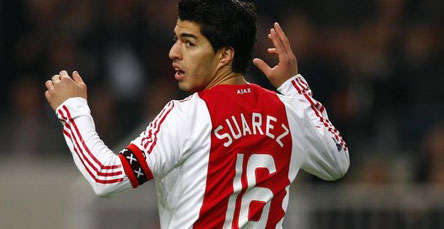 Liverpool FC have agreed a deal with Ajax to sign Uruguayan striker Luis Suarez.
The club will now discuss personal terms with the player ahead of a medical.
The 24 year old was named Dutch Footballer of the Year in 2010 after scoring 35 times in 33 league games.  He scored 49 games in all competitions.
After starting his career at Nacional, he moved to Groningen in the Netherlands aged 19 before his move to Ajax for 2007.
The official LFC website quotes the deal as potentially coming to €26.5M (approximately £23.5M) although we believe the reds will pay around £18M up front, with the other £5.5M based on appearance and performance bonuses.
Liverpool did have an initial £13M bid turned down for the player, which Ajax rejected, but over recent days it has become clear that Suarez had his mind fully on a move to Anfield – leading to a resumption of talks between the two clubs.