Liverpool have an opportunity to go back to the top of the League on Saturday, but Captain Gerrard isn't getting carried away.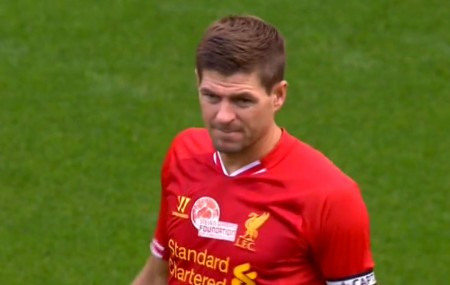 If the reds can manage to beat local rivals Everton they will take the early Saturday position at the top of the league, hoping for some slip ups from the other clubs at the top of the table.
Steven Gerrard has seen Liverpool come close to landing the elusive 19th title a number of times - so is well placed to judge where Liverpool are at.
Speaking to ESPNFC he said:
"I think it's important for me as captain of the team not to raise expectations.

"When you're talking about winning titles, it's premature, it's too early, and I don't want to get anyone's hopes up.

"That would be unfair. Our dream and our plan at the beginning of the season was to break into the top four.

Liverpool have had the easier ride in the fixture list so far, but still, he indicated the club are slightly ahead of their target so far.

"We're slightly ahead of where we thought we'd be, but it's a tough league and there's six or seven teams capable of finishing in the top four. There's going to be a tough fight.
The Merseyside Derby kicks off at 12:45pm on Saturday.