Steven Gerrard, speaking ahead of his testimonial, is trying to convince Luis Suarez to stay at Liverpool.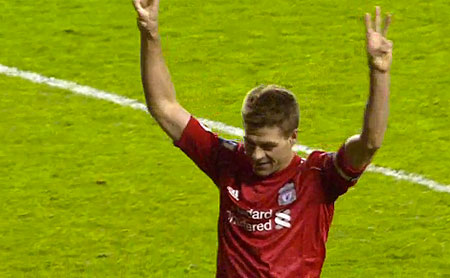 And Liverpool's opponents at the weekend, Olympiacos, serve as a timely reminder of how magical European nights at Anfield can be.
Gerrard said:
"If Luis experiences Champions League football here he'll love it. They'll be some of the best nights in his career. To play Champions League football in front of our fans is special. It's an awful lot bigger than doing it at other clubs.

"I don't think Arsenal is a step up. Us, Arsenal and Tottenham are fighting for one of the Champions League places. In an ideal scenario we keep Suárez, make one or two more signings and Tottenham lose Bale.

"I don't want to disrespect Arsenal. They're a wonderful club with a manager who I've an awful amount of respect for and they have talented players throughout the team. But so have we. We've got just as good a chance of achieving things as Arsenal have.''
And Gerrard also insisted he was hoping the reds would go out and spend in the remainder of the  transfer window.
"We need that one exciting marquee signing who can play in one of the attacking positions. That's why we are talking along the lines of keeping Luis because if the club lose Luis we take a step backwards. He's the best footballer I've ever played with.
Liverpool take on Olympiacos at Anfield on Saturday - kick off at 12:45pm.