Glen Johnson today came out in defiant support of Liverpool boss Brendan Rodgers.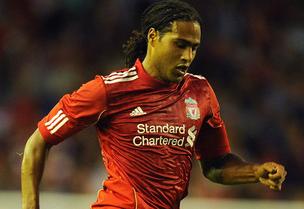 The England right back has on the whole had a good season so far and he thinks that the whole team has too.
"It is clearly a better season than last season. Brendan is looking to improve the squad and we have got a better squad than we did have.

"He will look to improve again in the summer. If we can nick the goals we need, we will be right in amongst it.

"Brendan was brought in to rebuild the squad and put Liverpool back into the places that it should be. He wants to put us back in the top four but he wasn't asked to do that in his first season. This season has been a step closer to that.

"Of course everyone - players, staff, fans - would love us to be back in the top four but, if we improve on last season, then it is a step in the right direction."
Johnson went out to highlight what he feels is an 80% positive record by the reds.
"You look at the squad, the feeling that there is around the place, the football that we are playing and, like I said, eight times out of 10 we have been battering teams.

"That wasn't the case last season. We won a trophy last season and of course that was fantastic. Everyone wants to win - that's what we are in the game for. But in terms of getting Liverpool back where they belong, we want to be back in the top four."
Glen Johnson has been Liverpool's third most involved player this season - just behind Steven Gerrard and Luis Suarez.