A round up of reaction to Liverpool's victory over Cardiff City.
Liverpool went back to the top of the Premier League for the first time since Matchday 4 this season, before Luis Suarez had even completed his ban.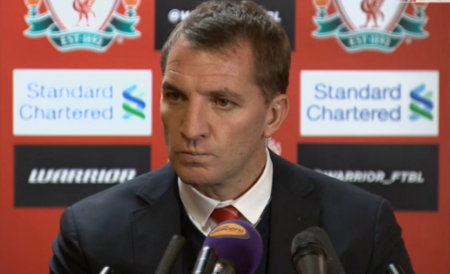 Brendan Rodgers was asked about Luis Suarez, and if he had any more superlatives for the player.
He replied with a simple 'The one for today is unselfish'.
"First of all it's for the second goal. He's through on goal, you don't see too many strikers do that (pass to Raheem Sterling to score)."

"It shows you the team player that he is.

"I thought he showed great humility as well, when Daniel Agger came on the field, he brought the armband straight to him because he's the vice-captain. It shows you the humility of the man.

"Two brilliant goals, a genuine world-class player who is the pivotal point of a team that is really exciting and dynamic at the moment.

"It was an outstanding team performance. In the first half, we were exceptional - some of our movement and fluidity in our game was excellent.

"We controlled the game, scored three and maybe could have had one or two more. In the second half, we started brightly and looked like we were going to continue that momentum."
Rodgers will now turn his attention to Manchester City, an away game for Liverpool on Boxing Day.
"We're really looking forward to the games. At Manchester City last year, we should have won and ended up drawing the game.

"Manchester City have a great squad of players; everyone looks at them as Manchester City's title to lose because of the squad they have. For us, it's just about taking each game at a time.

"We have been on a fantastic run, the quality of our football is at a really high level - we're pressing the game very well, our aggression to get the ball back is good.

"We'll arrive there on Boxing Day in a really good moment. It's a game I'm really looking forward to."
Luis Suarez, an increasing part of the post match interview experience, was again asked about the importance of being captain.
"We have only one captain here. And without him we try our best. Playing well together is more important than being captain."
Newspaper Reaction
Andy Hunter in the Guardian noted Liverpool's impressive first half and more disjointed second half
"The pace, industry and invention of Liverpool were relentless in the final third, and by the time Cardiff trooped off the pitch at the interval it was looking doubtful that Mackay would survive for the second half."
In the Independent Tim Rich looked at the cast of characters on display, Vincent Tan, Malky Mackay and of course Luis Suarez,
"Logically, 2013 should have been the year when Suarez was driven from Merseyside by a combination of his own reckless stupidity and Liverpool's constant failure to make the Champions' League. Instead, he has shown sport's remarkable capacity for redemption.
Cardiff City's official match report (unsurprisingly) didn't mention the fans' support of their manager over their owner
"In the first half, the home side showed their title credentials, crashing three goals into the City net. In the second period though, Mackay's men were resurgent scoring one goal through Jordon Mutch.
Twitter Reaction
With 3 spectacular goals and 69% possession, LFC dominated today's match. Fourth straight win puts LFC at the top of the table!

— Linda Pizzuti Henry (@Linda_Pizzuti) 21 December 2013
Everyone's running out of words to say about him at the moment...#suarez

— harry wilson (@harrywilson_) 21 December 2013
Lovely sight! A lot of Belgian fans at Anfield today aswell! #YNWA Bedankt voor jullie steun! pic.twitter.com/TCYD2XULSv

— Simon Mignolet (@SMignolet) 21 December 2013
When the legendary Dixie Dean scored 60 goals in a season his rate was 1.53 goals per game. Suarez's current rate is 1.58. Unreal.

— Tony Barrett (@TonyBarrett) 21 December 2013
Magician doesn't come close to describing level of Suarez form - new word needs to be invented. Suggestions welcome #LFC 3-0 #Cardiff

— John Sinnott (@JohnSinnott) 21 December 2013