Liverpool manager Brendan Rodgers spoke following Liverpool's 4-3 victory over Swansea at Anfield.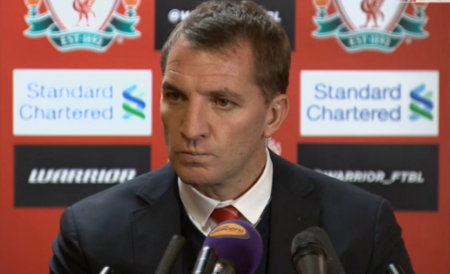 The reds needed a fourth goal to see off Swansea in another game of great forward play and not so good defensive play.
Brendan Rodgers was surprised at both the free kick and penalty which led to both of Swansea's equalisers,
'We certainly provided an entertaining game for people watching.

'I think we showed the strong part of our game - our offensive game is very aggressive and we've got goals in the team, but we're obviously disappointed with the goals.

'I think we were very unfortunate we gave away the goal from the free kick which didn't look a free-kick whatsoever.

'Then Mike has given them a penalty which didn't look like a penalty.  Bony's gone into the box - there was a bit of contact with both players, but he goes over and he gives them a penalty. It gave them a lifeline.

'Overall it was a tough game. Swansea are a very good team.

'But if we go 2-0 up we should manage the game better - we gave away a disappointing goal not long after that.

'Today really showed and demonstrated the character of the team.  Without being at our best we  were able to keep going, keep that focus and I thought when Joe Allen came on we really upped the intensity of the game and kept hold of the ball much better."
Brendan was asked about whether the top three winning a day earlier had an impact, and whether the reds are involved in the title race.
'No. We were concentrating on our own performance. We just want to focus on winning games, and none more so than the next game.

'No-one's really talking about us for the title. Everything is now about Chelsea, Manchester City and Arsenal.

'Those three are probably going to be the three challenging for it and we'll just look to do better and analyse our performance each week and go into the next game with the energy and commitment to be better and see where it takes us.

'We've still got 11 games to go.  We're building a nice gap between us and the teams around us. When we play well we win and that's important for us.