Liverpool will use the Google+ social network to unveil next season's away kit, just hours before the club will take to the field at the Aviva stadium in a post season friendly.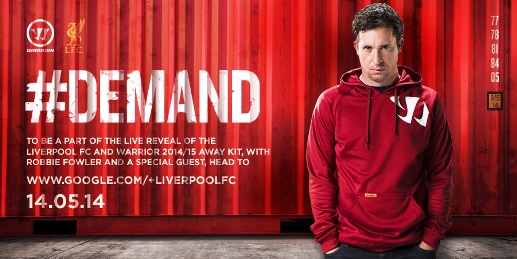 Robbie Fowler, along with 5 lucky supporters, will have a 30 minute live Google Hangout two hours before the match against Shamrock Rovers kicks off on May 14th where the kit will be unveiled.
The events will be broadcast live on Google+, Youtube and the official website.
Questions will be submitted using Warrior's LFC hashtag for the LFC kit range - #DEMAND.
Liverpool's new home kit for 2014-15 can be pre-ordered now, and will be delivered for launch date on May 9th - two days before the end of the football season.
Fans who are available to attend the webchat with Robbie Fowler can enter the competition to be one of the lucky five fans on LiverpoolFC.com.