Liverpool will return to the Champions League seeded in the third group of teams.
Across European Football as a whole, Liverpool are ranked as the 32nd best side based on UEFA's points scoring over the last 5 seasons.  In terms of teams qualified for the Champions League, the reds are in position 22.
Liverpool's 2009/10 Champions League campaign adds the most points, topped up from the 2010/11 and 2012/13 Europa League campaigns.  The reds were not represented in European football for 2 of the last 5 seasons.
Five of the teams ranked above Liverpool must negotiate qualifying rounds to reach the group stage - but even if the unthinkable happened and all these sides were knocked out - Liverpool would still be one place out of the 2nd group of seeds.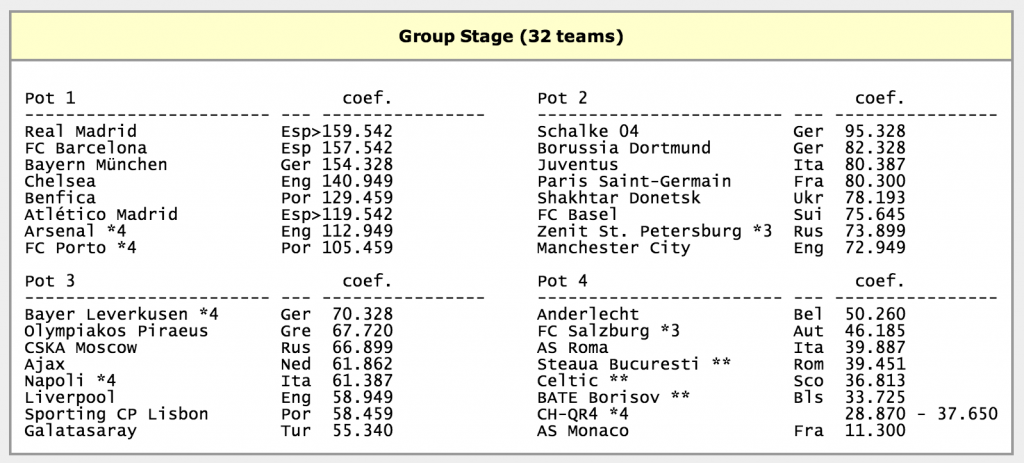 Data from Bert Kassies (* teams must get through qualification rounds)
Manchester City have just managed to keep their place in the 2nd pot of seeds.
Who could Liverpool get in their group?
Liverpool can't be drawn against other English clubs, so assuming all the seeded teams qualify then Liverpool could face one team from each of the following pots:
Pot 1: Real Madrid, Barcelona, Bayern Munich, Benfica, Atletico Madrid, FC Porto*
Pot 2: Schalke, Borussia Dortmund, Juventus, Paris Saint-Germain, Shakhtar Donetsk, FC Basel, Zenit St Petersburg*
Pot 4: Anderlecht, FC Salzburg*, AS Roma, Steaua Bucharest*, Celtic*, BATE Borisov*, AS Monaco, Unconfirmed qualifier*
Which group would you want?