The jury has declared that the 96 fans were unlawfully killed at Hillsborough.
This second inquest concluded 27 years and 11 days following the disaster of the 15th April 1989.
The Liverpool supporters were exonerated of any blame for the disaster, whilst the police, emergency services, and those responsible for preparing the stadium were all found to have made errors or omissions which led to the disaster.
The verdict caused emotional scenes for the families who have endured a long struggle to achieve their justice today.
The process to this inquest came about following the intervention by Andy Burnham MP in the days after the 20th Anniversary - back in April 2009.
Liverpool fans that day at Anfield demanded Justice from the Government.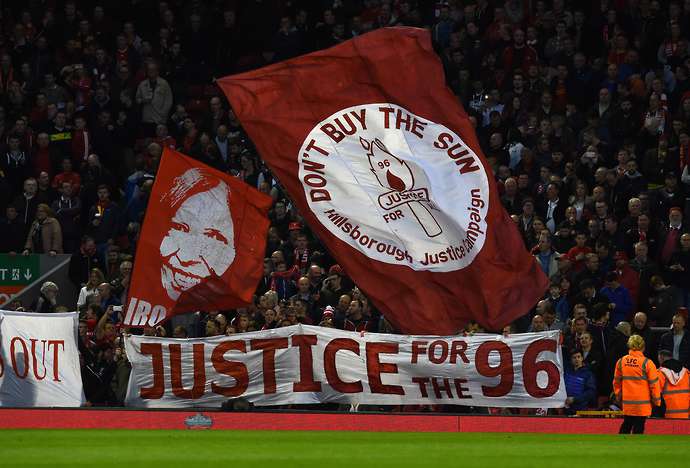 As a result the Hillsborough Independent panel was set up, with access to secret files held by the police and the Government. It released its report in September 2012.  Their conclusion was that no Liverpool fans were responsible in any way for the disaster and the primary cause of the disaster was a 'failure in police control'.
The findings also concluded that 164 witness statements had been altered. Of those statements, 116 were amended to remove or change negative comments about South Yorkshire Police.
The original inquest following the disaster, led by South Yorkshire coroner Stefan Popper, left out important details from the day and returned a verdict of accidental death.
This inquest result was quashed by the court of appeal in December 2012 and fresh inquests were scheduled to take place.
These inquests began at the end of March 2014.
A banner outside court in Warrington at the #Hillsborough inquests pic.twitter.com/SS3iMzfs8u

— Liverpool Echo (@LivEchonews) 26 April 2016
The jury had been asked a total of 14 questions to deliver their verdicts on - summarised below
The jury had indicated that there were errors or ommissions by the police in the lead up and the day of the disaster.
They found that the Liverpool fans HAD been unlawfully killed.
There was NO behaviour from the fans that contributed to the disaster.
They found that the safety certification process did have errors and ommissions.
Yes, there were errors made by Sheffield Wednesday in the lead up to the game and they should have requested a delayed kick off.
The engineers involved in the stadium should have flagged up issues.
The police made errors after the start of the disaster unfolded which caused or contributed to further loss of life.
The ambulance services did make errors which contributed to deaths of supporters.
The truth.