We needed a lifetime goal from Jordan Henderson - 2-0Jurgen Klopp
Jurgen Klopp was pleased with the night's work after the reds beat Chelsea 2-1 at Stamford Bridge in the weekend's first Premier League game.
The reds did the majority of their good work in the first half - dominating possession, goalscoring chances and the goals in the first 45 minutes to take a 2-0 half-time lead.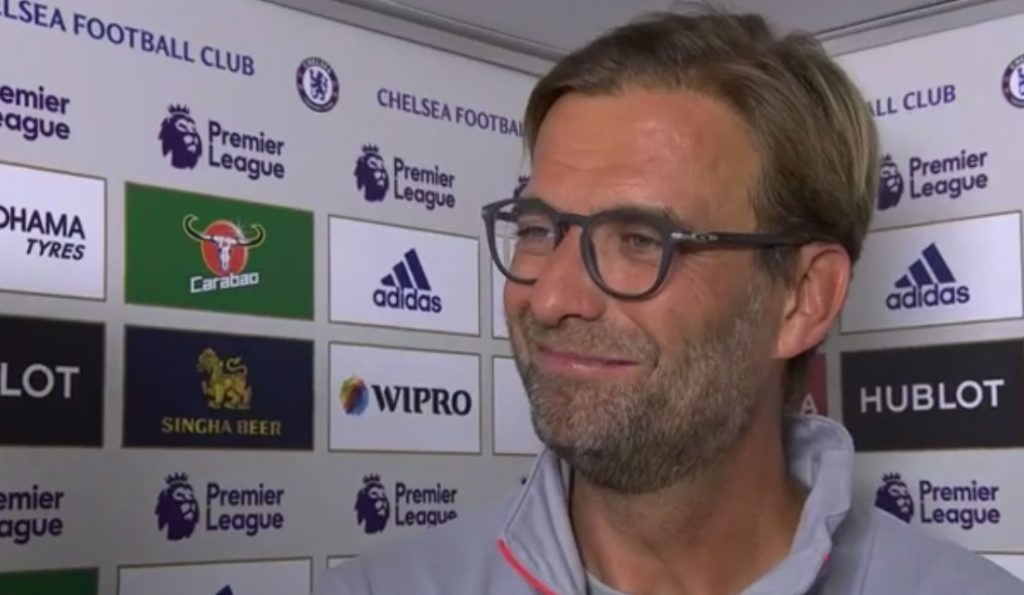 Chelsea fought back to control most of the second half but Liverpool did have further opportunities - but it was Chelsea's Diego Costa who grabbed a goal back.
Speaking to TV straight after the game the Liverpool boss said:
'It was really good.  Especially the start - the first 35 minutes - they were well deserved goals.  We created the moments, not the big chances because they defend really well and we were really quick around our goal.

'We needed a lifetime goal from Jordan Henderson - 2-0 well deserved.

'Second half it was clear they would strike back and try everything.  We needed to defend well and be organised.  That's what we did.  They scored a goal in a situation where we had a counter-attack and it was really difficult (physically) at this time because both sides were counter-attacking.

'In the first half we ran more than Chelsea for sure.  In the second half they invested more and we had to react to it so it was hard.  But after we conceded (the Costa goal) I can't remember any big chance for Chelsea.
Klopp was asked about the good results against the good teams, inferring the reds struggle at times against the 'easier teams'.
'We have quite a good record against top flight teams.  But in a good way improving against teams which maybe you would say are not able to become Champions.

'We are happy with the start.  It was the most difficult start - do you know a more difficult set of fixtures in the whole world playing away against all top teams and we now have 10 points so everything is good for the moment.'
Klopp Post Match Press Conference (Chelsea 1-2 LFC)
Liverpool next face Derby County in the 3rd round of the League Cup.