Liverpool's players, so impressive on their way to the final yet so disappointing in last night's game, have been speaking about the 3-1 defeat to Sevilla.
Captain for the night, James Milner, alongside Emre Can was completely overrun in the second half.  Milner was one of the first to be interviewed after the final whistle.
"We never started in the second half and it is devastating. We didn't show anywhere near our ability and that is the biggest disappointment.

"We were ready, we made sure we said the right things at half-time. We gave a sloppy goal away and never got back into the game.

"The lineman's flag went up for the third goal but the referee gave it the other way. It is nothing to do with the referee, it is about us. We didn't do it on the night that mattered.

"We didn't think about the Champions League, it was about winning this trophy. We didn't manage to get over the line. It is a double blow not to be in Europe next season. We got into two finals and lost both, next time we need to finish the job."
The Liverpool manager Jurgen Klopp was also disappointed.
"Obviously the first goal had a big influence on our game.

"At this moment we lost faith in our style of play, we changed from passing quick and simple to complicated and lost our formation. It was not compact any more. I've had this problem one or two times with this situation. The first half was ok, we deserved the 1-0, Sevilla played a lot of long balls to avoid our pressing game. We were not as good as we can be but everyone told me there were two handballs in the first half. There were some obvious decisions which went against us. In a final when it is close you need a bit of luck even when we hadn't had any.

"We are disappointed and frustrated 100% but tomorrow or later in the week we will see it a little bit more clearly and we will use this experience, that is what we have to do. It is clear we are not in a European tournament next year so we don't have football on Wednesday or Thursday, so we will have time to train and we will, for sure, come back stronger.

"We had a few moments where we have performed but then to have this consistency you need a bit more time. They are still young, the players' first big final, but unfortunately it is the second time this season. We will use this experience together and then some day everyone will say Basel was a very decisive moment in the future of Liverpool."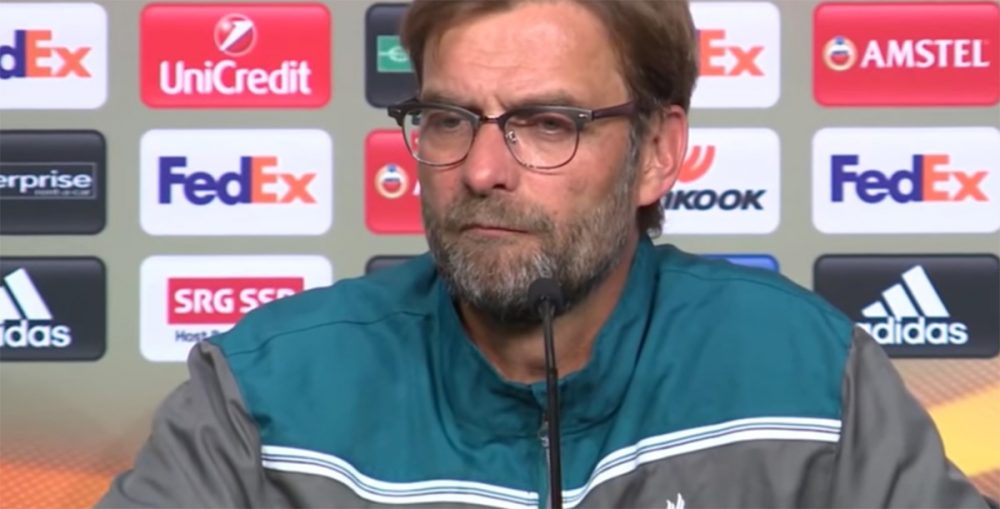 Klopp spoke more on the changes ahead for Liverpool - and his own record of 5 defeats from his last 5 finals.
"This team will be a little bit different next year, that's clear. We we will do something with transfers, that's clear.

"First of all, we need to use the experience. I'm sure we will be in a final again and have decisive moments, and if we have decisive moments we all have to react better.

"I have had a lot of luck in my life that I sit here and am manager of Liverpool.

"I don't think I am an unlucky person. Some of the finals have been unlucky, but I will carry on and reach another final. We will be prepared.

"There are bigger problems in life, but I must admit at the moment it doesn't feel like this. It's really hard."