The long wait is over, as the reds return to the Champions League group stage.
After the 6-3 aggregate win over Hoffenheim, the reds can open their campaign properly against Sevilla, the team who denied Liverpool a Europa League trophy in May 2016 and the route to last season's Champions League.
Sevilla are making their 5th appearance in the group stages - this is Liverpool's 10th appearance since the European Cup was rebranded as the Champions League.
Tonight's game will be the last appearance Sadio Mane will make for a number of weeks - his three match ban begins at the weekend.  Most importantly Liverpool will be looking to banish memories of that 5-0 defeat at the weekend.
As it happened...
British clubs in Europe
Man Utd and Chelsea got comprehensive wins last night against Basel and Qarabag. Celtic were well beaten at home against PSG.
Tonight some much difficult games for the English sides. As well as Liverpool facing Sevilla, Spurs are at Wembley to face Dortmund and Man City travel to Feyenoord.
Confirmed LFC Team
Starting XI: Karius, Gomez, Lovren, Matip, Moreno, Wijnaldum, Can, Henderson, Salah, Mane, Firmino.
Subs: Mignolet, Milner, Coutinho, Sturridge, Klavan, Oxlade-Chamberlain, Robertson.
That's 3 changes at the back from the Man City game - Karius, Gomez and Lovren replacing Mignolet, Alexander-Arnold and Klavan.
LFC U19's setting the standard
Liverpool and Sevilla are currently playing out the UEFA Youth League clash between their U19's squad.
It's approaching the end of the game and Steven Gerrard's team are currently leading 4-0 at Prenton Park.
Curtis Jones has scored twice, Liam Millar and Conor Masterson are the other scorers. Ben Woodburn is also involved in that game.
Here is tonight's Sevilla side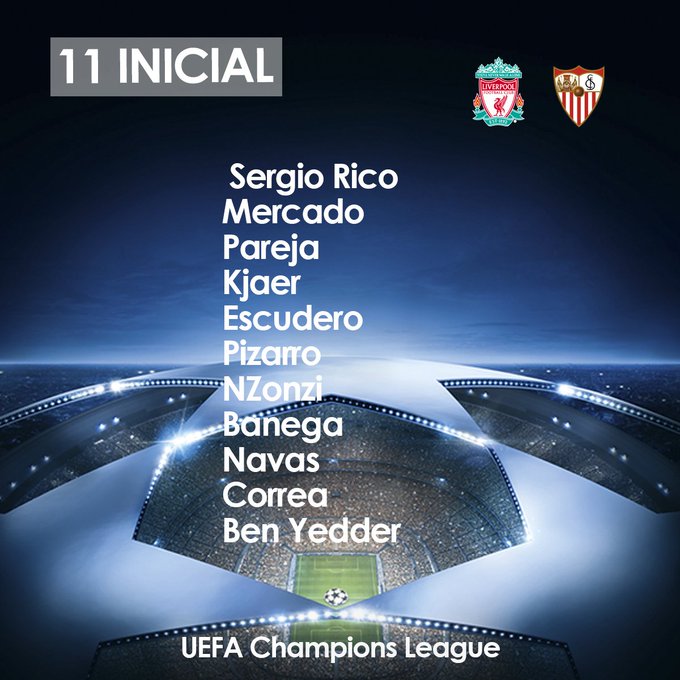 Sevilla's form
Sevilla are currently 3rd in La Liga behind Barca and Real Sociedad. They draw 1-1 v Espanyol on the opening day, but have beaten Getafe and Eibar without conceding.
They reached the group stage after a 4-3 aggregate win over the runners up of Turkey, Istanbul Basaksehir.
Not the best of records for Liverpool
Elsewhere...
Ederson, the goalkeeper who had to be stretchered off following Sadio Mane's red card on Saturday, starts in goal for Man City tonight.
Hmm.
Will he be required tonight?
And what will the reaction be from The Kop?
10 undefeated
Liverpool are undefeated in the last 10 European games at Anfield, mostly in the Europa League.
The reds last defeat was in October 2014 when they were beaten 3-0 by Real Madrid.
Since then they have enjoyed European wins against the likes of Bordeaux, Villarreal, Borussia Dortmund and Man United.
YNWA time
It's nearly kick off and Anfield stands to deliver 'You'll Never Walk Alone'.
Klopp pre-match
Speaking to BT Sport
"I was not there in the last six or seven years when Liverpool were not involved in the competition. This is the most special club competition in Europe, you have to perform to get results and get the best place in the group. We are ready.

"It is an art to get results after big victories or defeats. No-one has found the right formula yet.
KICK OFF
We are underway at Anfield!
Goal
5 minutes gone
Liverpool 0-1 Sevilla (Ben Yedder 5')
Not a great start for Liverpool defensively. The cross comes over, Lovren miskicks and Ben Yedder is there for the easiest of tap ins. Not good reds.
8' Sadio Mane barged off the ball at the edge of the penalty area but the referee, surprisingly, isn't interested and waves play on. Anfield not happy about that decision.
That's more like it - a quick passing move from the reds and Sadio Mane forces a save from the keeper.
Corner to the reds.
GOAL!!!!
21' A well worked move from the reds and ROBERTO FIRMINO scores.
Liverpool 1-1 Sevilla
It was a neat intricate move from the reds, with Henderson and Moreno exchanging passes - before Moreno slid the ball across the penalty area.
Roberto Firmino was there to put it past the keeper.
Ohhh
A quick counter attack from the reds - tore through the Sevilla side - but Emre Can's shot squeezes narrowly wide of the goal.
29' Sevilla corner - it comes off the head of Lovren and loops high in to the air. Crowd holds their breath - but Karius jumps highest to collect. And relax...
33' Liverpool are dominating here at Anfield. 10 shots now from the reds with only 1 for Sevilla. But it's 1-1.
Yellow Card
Gabriel Mercado, Sevilla's right back who has been under pressure, collects the first yellow card for a foul on Roberto Firmino.
Go after him now reds!
GOAL
37' Liverpool 2-1 Sevilla
A huge huge deflection off a Mohammed Salah shot that hits Simon Kjær and heads over the goalkeeper.
Doesn't matter - we'll take it. Liverpool lead!
Two quick yellow cards
A Sevilla player went into the book shortly after the goal - we think it was Simon Kjaer then shortly after Moreno goes into the book for a foul.
PENALTY to Liverpool
Sadio Mane held back inside the area - it's a penalty! Firmino steps up to take it... but he hits the post!
Substitution
44' Just before half time - Pizarro goes off after suffering a knock and Pablo Sarabia replaces him.
2 minutes added time here.
HALF TIME
There was a flurry to the end of that half - and Moreno ends a fine Liverpool move with a shot drilled at the keeper. The keeper palms it away and that's it - first half is over.
Liverpool 2-1 Sevilla
SECOND HALF
We're underway. No personnel changes.
Coutinho warming up along the touchline. How long till we might see him involved in the action.
It's been a quiet opening 5 minutes of the second half.
Liverpool on the attack
56' We've just had Joel Matip powering into the box, and now a good move from Mane down the wing - the ball goes to Emre Can at the edge of the box. The German hits it... but Firmino can't get out of the way inside the area and it rebounds back off him.
Liverpool are definitely looking for another goal, while Sevilla hunt for an equaliser.
Makes for a exciting half.
Sevilla manager sent off
He's thrown the ball away twice when he's received it. He's been spoken to once by the ref and this second time he's been sent to the stands. What an idiot.
Yellow card
Joe Gomez goes into the book for a foul. The free kick comes to nothing.
Apart from that - the youngster has done well tonight - coming in as effectivey third choice right back. He may be needed at centre back as the season wears on - an area Liverpool could definitely do with reinforcements.
Stinger!
68' Free kick for handball to Liverpool. The ball comes back out and Wijnaldum fires a stinger low at the goalkeeper - he managed to push it out for a corner.
Still no more goals in this half but plenty of chances.
Substitution
69' Sevilla's goalscorer Ben Yedder goes off to be replaced by Luis Muriel
71' Foul there by Moreno. Sevilla players waving the imaginary card at the referee. Alberto is already on a yellow - but the referee decides the foul doesn't deserve a second yellow card.
Goal
73' And it's for Sevilla. Joaquin Correa runs into the box and collects and dispatches the equaliser. Liverpool just haven't taken their chances.
Liverpool 2-2 Sevilla
Coutinho readying himself to come on.
Substitution
76' Emre Can goes off and on comes Philippe Coutinho.
80' Into the last 10 minutes now. Alex Oxlade-Chamberlain also warming up on the touchline, as is Daniel Sturridge.
Substitutions
83' For Sevilla - Jesus Navas off and on comes Sebastien Corchea.
For Liverpool - Daniel Sturridge is on - off goes Sadio Mane.
86' There hasn't been much spark from Coutinho so far in his brief cameo. And with four minutes left on the clock Sevilla win a corner...
Final Substitution
88' And Alex Oxlade-Chamberlain is on for Mohammed Salah
Into injury time
There will be four minutes added on. It's 2-2.
RED CARD
Luis Muriel should have won the game for Sevilla. Gomez plays him onside and gets caught the wrong side but Muriel puts it wide.
And then seconds later Gomez collects a second yellow card. He's off! Not a great end.
FULL TIME
Liverpool 2-2 Sevilla
Well, well.
Angry exchange on the touchline - with Jurgen Klopp asking the Sevilla bench what he had done wrong - a bad reaction to him from the Sevilla coaches.
Just waiting to hear from Jurgen Klopp after this game.
Post Match
Henderson:
We should have got the 3 points with the chances we created. We'll be disappointed. I thought we looked exciting and could have scored a few more.
Matip:
We worked hard and I think we were unlucky.
Henderson:
We tried to win the ball back as quickly as possible. Overall there are still a lot of positives to come out of today's game. If we keep playing like that then we'll win more.
Jurgen Klopp is speaking
It was an exciting game from my half. It was obvious we wanted to do it. At the end we got a point so it's not too cool but it's still a point. I saw so much potential that we can work with.

What can I say. It's a draw.

I'm not sure if frustration is the right word. It's not what we wanted and I don't think it's what we deserved.
That's the end of our live coverage of today's game.
Thanks for joining us.
All four sides in Group E are on one point and the reds will have plenty to work on in the coming weeks.
You can find our match report online here.