FA Premiership
Sat 13th September 2008 (12:45) @ Anfield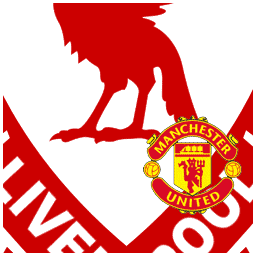 Liverpool face Man United and their new £32 million striker Dimitar Berbatov on Saturday lunchtime, possibly without Torres and Gerrard in a red shirt.
With Gerrard and Torres both out Liverpool will need to improve massively after our poor form so far this season to get something out of this game.
The reds are well positioned in the Premiership despite some mediocre performances, but with Liverpool expected to hand Albert Riera a first team debut eyes will also be focussed on Robbie Keane to land his first Liverpool goal.
The bookies have got United down as favourites to win the game. Liverpool will have to be on top of their game to upset the odds.
If Liverpool are to express serious title ambitions now is the time to get more out of these top of the table clashes.
Before the game Liverpool fans are planning a march towards the ground to demonstrate against the clubs owners (more info here).
History
Under Rafa Benitez Liverpool have lost 7 times and drawn only once in the league against United.  Last season's home fixture was one of total Liverpool domination but United ran out 1-0 winners thanks to a Tevez goal towards the end of the first half. The away fixture earlier this year was a humiliating 3-0 defeat which involved a lack of passion from the Liverpool players but some, typical, dodgy refereeing culminating in a Mascherano red card.
Liverpool have 39 wins out of 81 matches against United at Anfield. United have won 5 of the last 6 league games at Anfield. The reds last Anfield league win was in 2001 when an Owen double and a goal from Riise sank United 3-1.
Betting
Man Utd 7/5
Draw 2/1
Liverpool 2/1
Paddy Power are offering an impressive free £20 bet when you place a £10 bet. Bargain! The offer is here.
TV
The match will be broadcast live on Sky Sports in the UK.
Opposition Links
Man Utd Red Cafe Site
Man Utd Shirts
Forum Discussion on Liverpool v Man Utd
http://www.lfcreds.com/reds/index.php/topic,8879.0.html