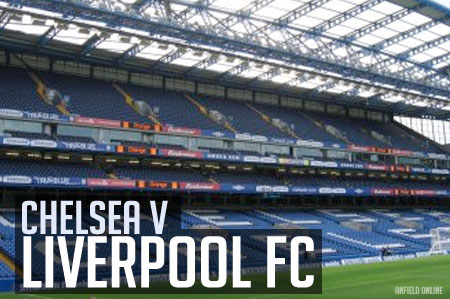 Liverpool take on Premier League joint leaders Chelsea, with an opportunity to leap-frog them in the league. Chelsea have had a great start to the season while Liverpool have had a mini-resurgence to land within 3 points of the boys from Stamford Bridge.
This will be Rafa's 25th match against Chelsea since his arrival in the summer of 2004 – Liverpool have not played any team more than Chelsea in the last 5 years.
This will be Benitez' third meeting with Carlo Ancelotti. The last two were in Champions League finals – in 2005 in Istanbul and 2007 in Athens, when Ancelotti coached AC Milan.
History
Liverpool had a unique league double over Chelsea last season. In October last year, the reds won 1-0 thanks to a Xabi Alonso strike away at the Bridge. This ended a 4 year 8 month unbeaten run for Chelsea in Premier League games at home. In February the reds re-ignited their title charge with a 2-0 victory at Anfield with two late Torres goals. It was the first time the reds had taken all 6 points off Chelsea since Kenny Dalglish's title winning 1990 team.
Our last two games against Chelsea were in last years Champions League quarter final.  Chelsea won 3-1 at Anfield before a 4-4 thriller at Stamford Bridge moved Chelsea to the semi-finals against Barcelona.
Injuries and Suspensions
Javier Mascherano is expected to return after suffering with a tweaked hamstring.  The game will arrive too soon for Daniel Agger who played in a reserve game in mid-week. Alberto Aquilani is also unavailable for this game.
Alex and Obi Mikel are injured at Chelsea. Michael Ballack is set to return. Petr Cech is suspended for this clash – with Hilario expected to take his place.
Form
Liverpool lost in mid-week in a disappointing 2-0 defeat to Fiorentina. In the League we have won our last 4 games – scoring 18 goals and conceding 5.
Chelsea won their first 6 games of the League season – losing only once – last week at Wigan when Petr Cech was sent off.  They had a morale boosting win away in Europe this week.
Teams
Liverpool –(from) Reina, Johnson, Carragher, Skrtel, Insua, Lucas, Kuyt, Gerrard, Torres, Cavalieri, Aurelio, Dossena, Mascherano, Benayoun, Plessis, Voronin, Kyrgiakos, Babel, Riera, Spearing.
Mascherano is likely to return to the first XI. Will Benayoun or Riera play is likely to be the reds only major question. After a poor performance in mid-week, Insua's left back place may be under threat from Aurelio.
Possible starting XI – Reina, Johnson, Carragher, Skrtel, Insua, Gerrard, Lucas, Mascherano, Benayoun, Kuyt, Torres
Chelsea: Hilario, Bosingwa, Carvalho, Terry, A Cole, Essien, Ballack, Malouda, Lampard, Drogba, Anelka.
Prediction
Chelsea are playing efficient football under Ancelotti. Liverpool will certainly improve on a disappointing mid-week performance but whether they improve enough to take all three points is open to debate.
Chelsea 2-2 Liverpool