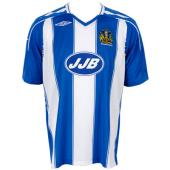 FA Premiership
Wed 28th January 2009 @ 7.45pm
JJB Stadium
Liverpool travel to high flying Wigan with a much needed 3 points the target to keep the reds in the mix at the top of the Premiership table.
Wigan are currently 7th in the table and have had a relatively good season so far, having lost only 3 times at home so far. Chelsea and Aston Villa are amongst the three sides that beat them at home, although they are undefeated at home in the Premiership since October.
Zaki is their main danger man up front, having scored 10 league goals this season.
History
The reds and Wigan don't have too much history. Our first game against them was only as far back as 1989.
In the 9 games played, Wigan's have only managed one draw.  In games played at Wigan, all four games have gone to Liverpool and Wigan haven't even managed to score a goal against the reds at their ground.  Which is worrying…
Betting
Liverpool are favourites with the bookmakers for this clash.
Liverpool 5/6
Draw 3/1
Wigan 4/1
Paddy Power are offering an impressive free £20 bet when you place a £10 bet. Sign up here.
TV
This game is not being broadcast live in the UK. Further streams and overseas details in the forum.
Opposition Links
Wigan Official Website
Wigan Football Shirts
Forum Discussion about the Wigan game