Anfield is preparing for the biggest game so far in the Premier League campaign as title favourites Man City travel to league leaders Liverpool.
Liverpool are undefeated in the last 14 Premier League games, and are on an 9-match winning streak.
The reds are currently 4 points ahead of Man City, but the men from the Etihad have two games in hand - if fulfilled giving them a 2 point lead at the top of the league.
Therein lies the importance of this fixture.  A Man City win, and they will be dead set to win the Premier League.  A draw gives Man City an advantage.  A Liverpool win will give the reds further impetus in the first serious title challenge from Liverpool for 5 years.
The game is the closest fixture to the 25th anniversary of Hillsborough.  All games will kick off 7 minutes later this weekend - this game starting at 13:37.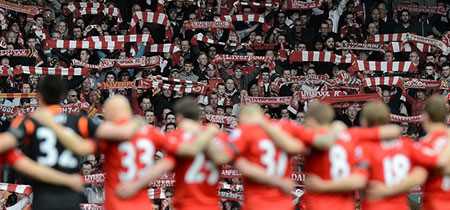 Team News
Mamadou Sakho returned to the reds starting XI last week, but Daniel Agger has now recovered from a slight injury to his knee.  Enrique is a long term injury at Anfield.
Sergio Aguero is likely to return for Man City after missing the last 5 games with a hamstring injury - Yaya Toure could also return.
Pre Match Comments
Manuel Pellegrini, Man City boss:
"Of course, the team that wins this game has more chance to win the title, but if you think that, with this you win the Premier League, it is a mistake.

"There are a lot of other chances to continue fighting, because I think this year the title will be decided by just one point at the end of the season."
Brendan Rodgers:
"We will unleash the supporters yet again on our opponents.

"I sense a real nostalgia about the place, a feeling of the old Liverpool. It will drive us, not hold us back."

"If we can continue to play well and get a little bit of luck then hopefully we can make their dreams come true. We will give it absolutely everything."
LFC v Man City stats
City haven't lost to Liverpool in the last five fixtures.  But Liverpool have lost only once to Man City at home in the past 16 visits.
Man City have won 7 and drawn 3 of their last 10 away games.  Liverpool are unbeaten in the last 14 Premier League games home and away.
The two sides are the Premier League's top scorers.  Liverpool have scored 90 goals.  Man City have scored 84 goals.
Betting
Not much between the sides.  Liverpool are at 6/4, City are at 2/1.  Draw is an outside bet at the moment.
However a 1-1 draw is the most favoured scoreline at 8/1.  A 1-0 win to the reds is an outlier at 13/1.  The bookmakers think there will be goals in this game.
You can get 66/1 on a 4-0 to the reds, slightly longer for a similar scoreline from City.
If you think Suarez or Aguero will bag a sensational hat-trick you can get between 33/1 and 40/1 for each player.
Prediction
This game could go anywhere.  History suggests a draw - but goalscoring exploits suggest it is conceivable either side could end up on the side of a drubbing.  Having said that...
Bet: Suarez first scorer - 4-2 to LFC - 110/1