UEFA Champions League Group A
Tue 18th September 2007 @ Porto
Liverpool started their European campaign on the wrong foot as within 8 minutes a crude challenge from Reina enabled Porto to take an early lead from the penalty spot.
After the initial whirlwind from FC Porto, who raced out the blocks with an abundance of skilful talent, the goal was coming but Jose Reina failed to cover himself in glory with the kind of keeper challenge that always results in a penalty in these European games.  Step up Lucho Gonzalez to hit the ball right down the middle and give Porto a great start.
As usual, the early goal woke Liverpool – who although still appearing like a team who had met one another only 10 minutes before – managed to craft a goal from a Finnan free-kick. Hyypia headed the ball across and it was Dirk Kuyt who headed home the equaliser.
The rest of the game was forgettable.
Liverpool showed little of the guile and brilliance that have seen us reach the final twice in the past three years.  When Pennant foolishly got himself booked for the second time and headed for an early shower – the 10 men Liverpool side still had 30 minutes left on the clock.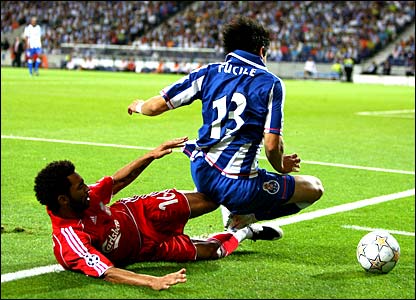 Pennant's silly challenge at the edge of the pitch put the reds down to 10 men
The boys dug in well however, and in light of this miserable performance and losing a player early in the second half you would have to agree to be relatively pleased with the point.
When Liverpool play Porto at Anfield – we will need to play much better than this performance.
Teams
Liverpool: Reina, Finnan, Hyypia, Arbeloa, Carragher, Pennant, Mascherano, Gerrard, Babel (Aurelio 85), Torres (Voronin 76), Kuyt.
Subs Not Used: Itandje, Agger, Benayoun, Crouch, Lucas.
Sent Off: Pennant (58).
Booked: Pennant, Torres, Kuyt, Mascherano.
Porto: Nuno, Bruno Alves, Paulo Assuncao, Quaresma, Lucho Gonzalez, Lopez, Bosingwa, Fucile, Joao Paulo, Raul Meireles (Farias 64), Sektioui (Mariano Gonzalez 64).
Subs Not Used: Ventura, Stepanov, Cech, Bolatti, Kazmierczak.
Booked: Bosingwa.
Goals: Lucho Gonzalez 8 pen.
Goals: Kuyt 17.
Att: 41,208.
Rafa's verdict
"We were really very bad in that first half, there are no excuses.
"We gave the ball away too easily and made too many mistakes.
"I've no complaints about the Pennant decision. Hopefully he'll learn from this experience."