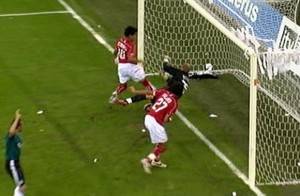 Liverpool can consider themselves lucky to have left Standard Liege with a draw, but the lack of away goal may lead to a tense affair at Anfield in two weeks time.
The Champions of Belgium were an excellent side, one of Liverpool's better European opponents in recent times.
Straight from the off Liverpool, who started with Plessis in Gerrard's place, were under the cosh.  Carragher had the armband but the reds (or in tonight's case the greens) were all over the place in defence.
In the 7th minute Liege had a great opportunity to score when a header came back off the post only for Reina to claw it away.
By the 11th minute Andrea Dossena had given away a Liverpool penalty, although TV replays showed the foul had been some way outside the penalty area.  Justice was served when Pepe Reina saved from the spot.
The rest of the first half was tough going for the reds with Liege first to every ball and not giving the reds any opportunity to craft any decent chances.
Keane and Torres have a long way to go to forge a partnership and Liverpool were clearly missing the Gerrard-Torres combo.
The second half started a little bit better for Liverpool but as the half wore on Liege again held the advantage over Liverpool, often picking gaping holes in our defence.
Robbie Keane eventually made way for Steven Gerrard who was not 100% match fit.
Liverpool pushed and prodded and as the game neared its conclusion both sides had chances to land a winner but the full time whistle arrived and the game ended in a draw.
The Liverpool players will know tomorrow morning when they wake up bruised that they have been in a game, and the return leg at Anfield will be anything but a formality. Liverpool need to win on the night. A score draw and Liverpool could be out of the Champions League.
Pepe Reina Post Match Interview
Teams
Liverpool: Reina, Arbeloa, Dossena, Carragher, Agger, Alonso, Plessis, Benayoun, Kuyt, Keane, Torres.
Subs: Cavalieri, Hyypia, Gerrard, Voronin, Insua, El Zhar, Pennant.
Yellow Cards: Alonso
Standard Liege:
Referee: x
Attendance: x