Liverpool were deservedly knocked out of the Champions League by FC Basel - despite a late Steven Gerrard equalising free kick.
In truth, across the whole campaign and the majority of even this game, Liverpool simply weren't good enough.
Needing a win Brendan Rodgers elected to pack the reds midfield with defensive minded players - leaving Coutinho, Lallana, Markovic and Can on the bench.
Enrique was preferred to Moreno, and Lambert started his 5th game in just under 2 weeks without even a backup striker, Fabio Borini (signed by Rodgers for £15M), on the bench.
Basel dominated the opening half, an awful half even by Liverpool's standards this season, and took a deserved lead when Frei scored in the 25th minute. Rodgers used up two of his substitutes at half-time correcting part of his initial selection error.
Markovic joined the fray and within 5 minutes of his appearance was on course for collecting the Man of the Match award.  His pace and directness leaving many to scratch their heads about why he has hardly been picked this season.
However maybe their answer arrived when he was sent off for a foolish arm lash.  It was debatable whether there was any contact with the face of his opponent - but it wasn't clever from the player who had a touchline fight in the latter stages of last years European competition.
Going down to 10 men initially sapped any momentum Liverpool had begun to prise out of themselves.
Basel had more chances - Mignolet popped up with a couple of decent stops.  With less than 10 minutes to go Steven Gerrard stood over a free kick.  The crowd wondered.
His previous dead ball moment, a corner, had been hit straight out for a goal kick.
But this free kick was perfectly flighted into the top corner and suddenly there was the chance that Liverpool could maybe perform another miracle.
Moments later the Basel keeper was wrong footed by a deflection but managed to react quick enough to stop what would have been a freak Liverpool goal.
By now Martin Skrtel was Liverpool's striker.  Yes, you read that right.
Basel saw the game out with little further danger and with LFC having won just once (and it was lucky) in 6 Champions League games we can probably consider ourselves lucky to have even finished 3rd in the group - moving in to the Europa League in early 2015.
Many might say we were unlucky to do so.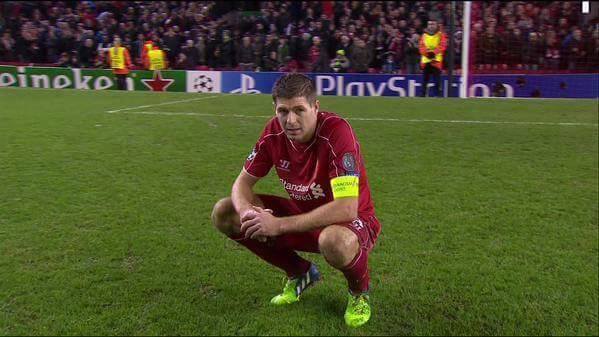 Next up is Manchester United at Old Trafford.  If Liverpool's old rivals extend their lead over Liverpool to 11 points then the owners two targets for this season could both be in tatters.