Liverpool qualified for the next stage of the Europa League with a game to spare after a comeback against French side Bordeaux.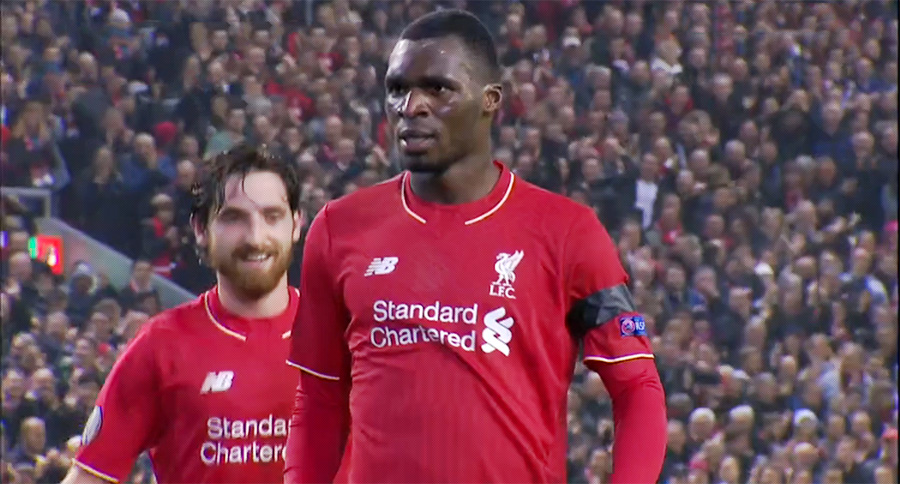 Simon Mignolet's time-wasting led to Bordeaux's first goal before a James Milner penalty and Christian Benteke strike before half time put Liverpool in the lead.
Daniel Sturridge was a late withdrawal from the LFC squad - he will now be sent for a scan on a new and mysterious foot injury when he was mere moments away from returning to action for LFC.
Benteke however did start, replacing Coutinho in the line up from the weekend's win against Man City.
Joe Allen came into midfield, and Dejan Lovren was partnered by Kolo Toure in central defence.
The reds started brightly.  Before the game the French team unfurled a banner saying Thank You - a reference to the support British people have offered the French following the recent Terrorist attacks in Paris.
Liverpool were lively in the opening spell - Benteke did have the ball in the net but it was ruled offside.
Bordeaux did have a good chance when an indecisive Mignolet failed to put any power behind a header outside his area - the chance fortunately come to nothing.
But just after the half hour the Liverpool goalkeeper, bizzarely meandered around his own box for 20 seconds with the ball in his grasp.  The laws of the game stipulate 6 seconds.  The result was an indirect free kick inside the box, right in front of goal.
Bordeaux duly scored to take an unlikely lead.
But Liverpool under Jurgen Klopp are now a whole different entity, and in the 11 remaining minutes of the half the game had been completely turned on its head.
First Benteke was felled in the area, and after a brief debate about who would take the spot kick, Milner stepped up and levelled.
And as the time ticked into first half injury time, up popped Benteke again to fire a powerful shot into the net - the last action of the first half.
And though we didn't realise then - it was a goal fitting of being the winner.
The reds came out second half looking bright but faded over time.  Benteke again had the ball in the net, his third of the night, but it was to be his second ruled out.  He was adjudged to have fouled a defender on his way to meet his shot.
Not too worry.  Liverpool score 2 goals in a European game for the first time in 8 attempts and have qualified for the next round of the Europa League, the last 32, with a game to spare.
23 other teams from the Europa League join them - with 8 Champions League 3rd placed sides also due into the mix in the New Year.
The reds have one more game - away against FC Sion - to decide who wins wins and who finishes second in Group B.
Well done Liverpool.  Well done.