FA Premiership
Saturday 23rd February 2008 @ 3 pm
Anfield
It was Fernando Torres' turn once more to be Liverpool's salvation as the reds, for yet another time, huffed and puffed their way around a Premiership fixture. Our suggestion to the Anfield hierachy is that the Champions League music should be played before every kick off at Anfield in order to get the players in the right frame of mind.
It was Boro who scored first, after only 9 minutes, in a game which the reds needed to win in order to creep back in to 4th spot.
As expected it was from a set piece – a Stewart Downing free-kick found Tuncay, who beat one of the worst offside traps seen, to head the ball away.
In the 27th minute, Boro clearly felt able to produce their own defensive calamity – Julio Arca headed back to goal but Torres intercepted to fire home (think of Gerrard's assists for Thierry Henry in the past – but with a bigger cheer).
Torres scored to put the reds ahead a minute later when he fired a powerful shot past the Boro keeper. With the advantage in the reds favour, Liverpool took their foot off the gas and allowed Boro back in to the game when we should have been pressing.
Tuncay scored again – unfortunately for Boro using your arms isn't allowed and the referee had to disappoint the young boy.
The second half started a bit more brightly with a bit more attacking play – Boro needing the equaliser and the reds clearly told to finish the game off. The reds struck first, the speed of Torres enabled him to intercept once again and slot the ball home. The hat-trick ball would be his.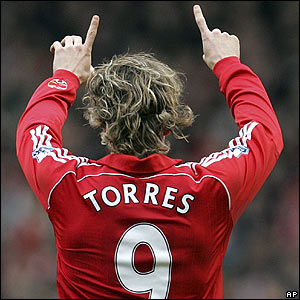 Stewart Downing showed his talents when he scored a second for Boro but the game did not get the grandstand finish that could have been expected.
The other Boro striker, Aliadiere, also wanted to get told off by the ref for using his hands so he gave Mascherano a little slap around the chops towards the end of the game. A red card resulted and the reds claimed a much needed victory.
Concerning for the reds will be the goals conceded yet again against weaker opposition, but also that two of today's reds goals were thanks to Torres raw speed and interception – the reds are struggling with creativity from the middle at the moment.
Quick Links
Latest Premiership Table
Updated LFC Stats
LFC Season Analysis 2007/08